Features
Wake any WOL enabled PC connected by Ethernet
Works on your local Wi-Fi or through the internet
Pin and directly start your computers from your start screen
Monitor if your computers are down*
Remotely lock your session, shutdown, reboot and more*
* when the companion Lighthouse software is installed on the target PC
The app is available in the following languages, thanks to our kind translators :
Chinese
Danish
Dutch
English
Estonian
French
German
Hungarian
Italian
Japanese
Portuguese
Portuguese (Brazil)
Spanish
Turkish
Lighthouse
Wake my PC Lighthouse is a small Windows service that once installed enables you to query your PC state (off or on), and to remotely reboot, lock, mute, shutdown your PC.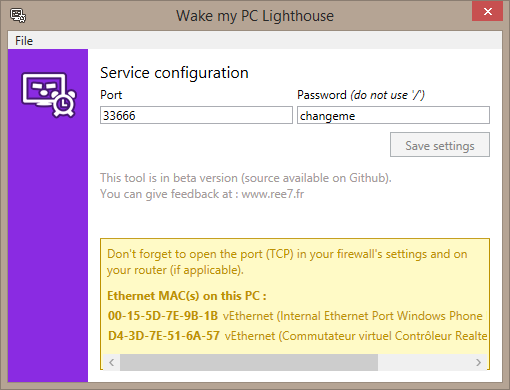 The service runs even when you are not logged on your computer (that's why it requires administrator privileges).
It comes with an Agent application which allows you to monitor the service and configure its port and password.

Support
As I receive quite a lot of email asking for support on WMP, and do not have enough time to process them all, I have opened a support forum about my apps that I'll monitor regulary.
Perhaps you will also benefit from the knowledge of experienced users of the app !
Wake my PC Support board
Donate
This app is free and will stay free. I work on it during my free time.
If you appreciate it enough to feel like wanting to treat its creator, you can donate with Paypal, and it will be greatly appreciated.